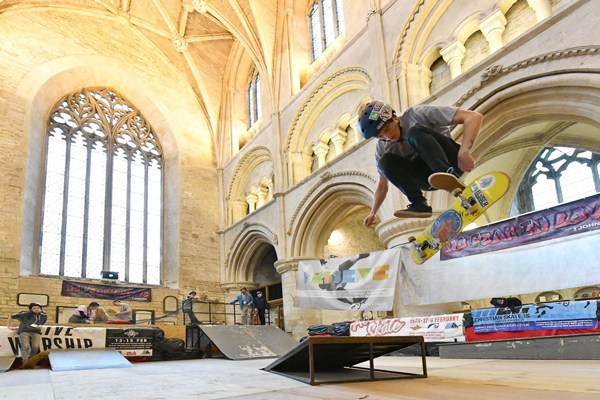 Be inspired by the 12th Century former Benedictine Abbey as volunteers from the church family join Christian Skaters UK to deliver the eleventh Abbey Skate. There are sessions for all ages and abilities. There will be skating, scooters, demos, competitions, music, tuck shop and the Abbey Cafe.
Brandon aged 17 who has been involved from the early days of Skate said this about last years event:
'I love that kids can come off the street and see something in a different way. They have never seen a skate park in a church before. You walk in the doors and it brings joy.'
Abbey Skate is a way of showing young people that the Abbey is for them as much as everyone else and to demonstrate Jesus' words, 'I have come that they might have life, and have it to the full.' (John 10:10)
For more information visit us on Facebook or email andrew@malmesburyabbey.com.
Tickets are available from: www.ticketsource.co.uk/malmesburyabbey
We look forward to seeing you at Abbey Skate 2019!