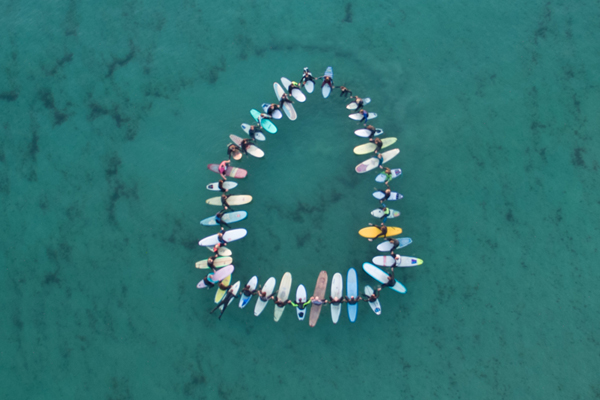 We are really excited to be celebrating our 25th CSUK National Gathering this year over  21 – 23 June  at the Tubestation in Polzeath. We would love you to join us at this event which will be a mix of the traditional ingredients of our National Gatherings as well as some celebratory items including: live music, looking back over the past 25 years, hearing stories from people whose lives have been impacted by the work of Christian Surfers and sharing what God has been doing over this first quarter of a century.
This no doubt going to be a very popular Gathering so please don't delay getting your booking in to make the most of the early bird rates, which finish on 28th May. This year all adult attendees will get a special commemorative 25th Anniversary National Gathering T-shirt included in the gathering package.
Can't wait to see you all join us in late June and we'll be praying for a fantastic celebration of the work God has been doing in the ministry.
As Christian Surfers UK grows and develops, we are aware that our membership is changing too! With lots of families and young kids in tow we are aiming to provide children's activities on the Saturday morning to allow parents to enjoy the meetings, so everyone can get the most out of the weekend. We would love to see you and ALL of your family.
Here's a little taste of what to expect from the National Gathering…
ACCOMMODATION
We will be based at the Valley Caravan Park and camping all together so bring a tent or van. If you wish to bring a caravan/motorhome the cost should remain the same if you have at least three sharing (contact us for more details). The cost of camping is included in the standard gathering fee. If you wish to stay in a mobile home (at additional cost) please contact us directly as soon as possible.
SPEAKERS
Rather than have one key note speaker, we have decided to mix it up this year, with 2 or 3 speakers in 20 minute heats, looking back on the last 25 years, but also perhaps sharing the challenge of the years ahead. This format worked really well at the International Gathering, and we are keen to trial at our anniversary gathering this year.
CATERING ASSISTANCE
We are looking for two or three people who would be willing to serve alongside the Tubestation team to assist with catering. If you feel you would be interested in helping in this way in return for a free place, please contact Ali at ali@christiansurfers.co.uk to find out what this would involve.
COST
MEMBERS DISCOUNT GATHERING TICKET
Includes camping, meals, a commemorative t-shirt (for the adults) and a contribution to the running costs of the event.
EARLY BIRD DISCOUNTED PRICE FOR CURRENT MEMBERS
(full payment received by 28 May 2019)
Adults – £75 (£85 after 28 May)
Children 10-16 years – £39 (£44 after 28 May)
Children 3-9 years – £18 (same price after 28 May)
Under 3s free
Family of 2 adults + 2 children – £186 (£211 after 28 May) for families of other sizes, please contact us for a price
OFFSITE MEMBERS DISCOUNT GATHERING TICKET
If you live locally and don't require accommodation, the non-residential gathering cost includes meals, a commemorative t-shirt (for the adults) and a contribution to the running costs of the event.
EARLY BIRD DISCOUNTED PRICE FOR CURRENT MEMBERS
(full payment received by 28 May 2019)
Adults – £60 (£70 after 28 May)
Children 10-16 years – £30 (£35 after 28 May)
Children 3-9 years – £10 (same price after 28 May)
Under 3s free
Family of 2 adults + 2 children – £147 (£172 after 28 May) for families of other sizes, please contact us for a price