PRAYER DIARY – JULY 2020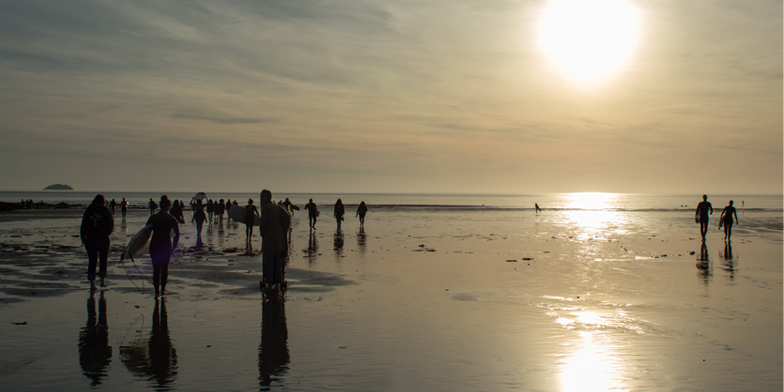 THOUGHT FOR THE MONTH
I remember when I was first learning to surf I struggled with duck diving for so long. Every time a wave would approach I would freeze up and stop paddling. What I didn't realize was that I was losing all of my momentum and was actually making it so much harder on myself to make it past the wave. I would just stop and say out loud, "I'm not gonna make it, I'm not gonna make it!"
Even now when a set starts rolling my way, I'm tempted to freeze up and to not keep paddling towards it. Instead of trying to make it past it/have more strength from my momentum to make it through, false ideas suddenly hit like: if I just don't move, maybe it will disappear, or maybe the most effective thing to do is give up and just take the beating.
Sometimes what life brings our way feels like this, doesn't it? It's like a wave full of unknown, confusion, heartbreak, doubt, or pain that starts rolling towards us from the outside that we can see on the horizon and start to feel before it even hits. The weakness of human nature might make us want to stop moving forward. We may feel like trying to run away from the challenges of life, letting our hearts go numb as to avoid what may seem like too much to handle, or we lose hope by predicting the worst to happen and we stay in the impact zone.
Heavy waves of life will come our way but we can move forward. I believe God calls us to do this. He doesn't expect us to do it without him though; we're not usually strong enough to nor do we have that kind of endurance. He is the momentum moving us forward and with Jesus we have everything we need to keep going. I feel so strongly to share this encouragement to continue forward in pursuing the purpose that the Lord has given each of us individually and to turn to truth in the Bible and in prayer to have the strength and hope that's needed.
"Fight the good fight of the faith. Take hold of the eternal life to which you were called…"
1 Tim. 6:12
"Being confident of this, that he who began a good work in you will carry it on to completion until the day of Christ Jesus." Phil. 1:6
Phil. 4:13, Luke 1:37, 2 Cor. 4:17-18
by Solveig Jobbins, CSUS Staff
---
PRAISE POINTS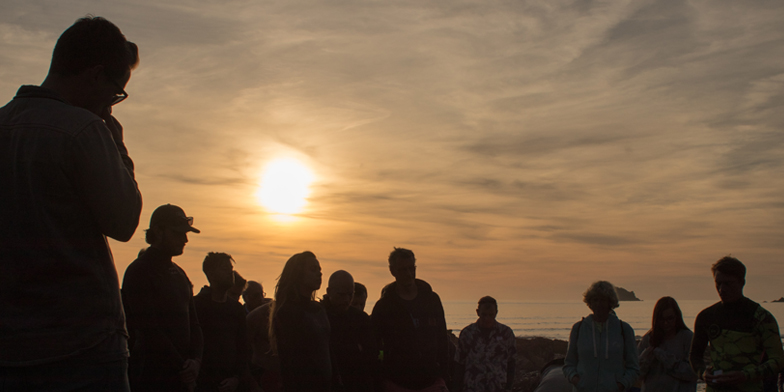 1st
Jesus Surf Series – please pray for the leadership team of CSUK as we consider the opportunity to hold the Jesus Surf Series in September and October. At this stage we very much hope and pray we can hold this, but the decision in some respects will be out of our hands, down to government guidance as well as permission from the relevant authorities. So your prayers at this time are greatly appreciated.
2nd
Second Day magazine 30th anniversary of CSUK edition – we want to put out this magazine during July and August, which will act as a celebration of all that God has done through the ministry of Christian Surfers UK since it first began 30 years ago. Please pray for the content, contributors, pictures and the story that runs through this. If you yourself have something that you would like to share, act now and get in touch with David, NOW -davidjrenyard@hotmail.co.uk in the next few days or it will be too late. Thank you
3rd
Covid -19 – Please continue to pray for all those struggling through the Covid 19 pandemic, it will have big implications for Christian Surfers UK regarding events and finances, but also I believe gives us an amazing opportunity to serve our community working alongside some other incredible volunteers. Pray for wisdom with which events which we try to run and which we postpone, but also that financially as an organisation this does not affect us in a way that we struggle to survive from.
4th
Groundswell Aid
Please pray for our partner organisation 'Groundswell Aid' as it raises funds for key projects in 3rd world nations, struggling with the COVID-19 pandemic. Give thanks for monies so far raised, and the help its been to the communities it is assisting.
5th
CSUK Women – Pray for the for women in Christian Surfers as they continue to connect with and encourage other female surfers in CS and the wider UK surfing community, especially in these difficult times.
6th
Pray for the CSUK staff and trustees as we look ahead to the coming months, which ordinarily would have been filled contests and events we would have been involved in or running ourselves. Pray for wisdom in making decisions and guidance as we decide what to get involved in and what we don't.
7th
We continue to pray for all those in our surfing communities with businesses that are struggling during the Covid-19 pandemic. Pray that they are able to find ways to keep going and get up and running very soon.
8th
Pray for all those CSUK members facing challenges connected with health, finances, family situations or their own wellbeing.
9th
Johnny Hillman – Exciting developments over this last month, as I have been completing my paramedic training, and in the short term (At the moment) have been back carrying out shifts on the frontline as a paramedic in the Cardiff area working for the NHS, to help out during the COVID-19 crisis. Continue to pray for me in this new role with regards to how it develops, and continue to pray for the family.
10th
Thank God for the amazing drive In church service held by our church partner, Wave House Church, in Newquay. Thank God for His hand in making it happen and for bringing the church community back together.
11th
Roy Harley and CSI
– Continue to pray for Roy and the CSI team as they coordinate the CS global family. Also for Casey, Jen and the family as they settle in to life on the USA's East Coast. Pray also for Aaron and Shannon as they find themselves unexpectedly now staying in Australia, whilst the World Surfing Tour is on hold.
12th
CS Scotland
Pray for CS Scotland that they are able to stay connected as a CS family at this time and also help them to find new ways of supporting their local surfing communities.
13th
CSUK Trustees Meeting tonight – Pray that Chelsea and Rob are able to work well with the other trustees starting with tonights meeting and thanks for their willingness and commitment to serving the work of Christian Surfers UK.
14th
Partnership – Surfers against Sewage (SAS) – For over 20 years Christian Surfers UK members have been involved in this amazing charity that is passionate about looking after our planet, and we are also members of their 250 club. Pray for all the CSUK members involved in the work of the SAS that they can be a blessing to the people and communities they are working with, and that as a partnership it will remain strong.
15th
CSUK Annual General Meeting – 7.30pm. It will be great to celebrate together tonight online at our annual general meeting; not something that is boring but most definitely something to celebrate what God has been doing. It will be great to have a good turnout
16th
Partnership – Welsh Surfing Federation –
Thank God for the great partnership we have with the Welsh Surfing Federation and the work Johnny and the team have done over the years to build this. Particular prayers at this time with so much uncertainty around both the volunteers and staff during this pandemic, and with the Welsh Championships postponed.
17th
Williams family
Joe – Give thanks for Joe as he continues his work with Christian Skaters, developing a weekly devotional and coordinating the team as they move the mission forward. Abi – July sees Abi going into her new full-time role as maternity cover in the operations management team – a great opportunity for her. Annie – the ever-changing guidance for schools, and more importantly getting pupils back-to-school continues to prove particularly challenging for Annie in her role. Please pray for the ability to influence key significant decisions. Phil – just completed three very intensive months involved with the COVID-19 help team in the local area, looking after 100 volunteers, giving praise for the opportunity and looking for opportunity to plan and assist CS throughout Europe and the UK, leading through the summer and into the autumn.
18th
Surf schools – Pray for all the various surf schools in our communities who have been out of work for weeks and have to now figure out how they can return to running surf lessons. Pray for all the instructors and business owners as they manage with no income during what would have been a busy season.
19th
Partnership – UK Pro Surf Tour. Thank God for this long standing partnership and the opportunities that have come from of it. Pray for Dave Reed and all the crew as they are now faced with the prospect of having to postpone or cancel all of their contests that are due to happen in the coming months. Pray for God's peace on them and that we are able to support them through this difficult time.
20th
Cornwall surf community – Pray for those people and communities that have been affected by the deaths and rescues during the recent run of good waves and beaches not being patrolled by the RNLI. Pray for peace and protection and for the lifeguard communities that are figuring out how they can keep people safe in the water during this difficult time.
21st
Church Partnerships – Pray for all the partnerships we have with churches around the UK as we continue to build strong links between the church and the surfing communities. Pray as we set out this year to partner with more churches and widen the network of partner churches and strengthen those partnerships we currently have.
22nd
Renyard Family – Thank God for the amazing family time we have enjoyed whilst at home together and being able to enjoy where we live so much. Continue to pray for the family as Pippa begins to return to working in the school building with the pupils, for the children as they return to going into school and David as he focuses on the next phase of work with Christian Surfers with Second Day magazine, CS resources and planning for the potential up coming events.
23rd
Church Partnership – Tubestation – Thank God for the amazing partnership Christian Surfers have with the Tubestation. Pray that as the year develops we are able to partner again with them on various events, particularly the Jesus Longboard Classic in October.
24th
Witterings surf community
Pray for peace and goodwill (it's not just for Christmas, after all) to the diverse surf community. Also pray protection and safety for all those who use the water and the foreshore team who keep an eye out.
25th
Thank you for all your prayers – Ali and Dave Boddy have a buyer for their house after more than two years!! We praise God for this development and ask for prayers as we now start serious house hunting that God would guide us to the place where he wants us to be.
29th
Partnership – Scottish Surfing Federation –
Thank God for the great partnership we have with the Scottish Surfing Federation and the work CS Scotland has done over recent years to build this up. Pray for them as they try to re-schedule the Scottish Nationals and British Cup, both of which have had to be postponed due to the Covid-19 outbreak.
30th
CS Europe – please pray for the leadership of the CS Europe countries as they begin to look at 'life after lockdown', as they begin to schedule various forms of meet ups and try to ensure relationships that were remote are now strengthened again.
31st
Partnership – Surfing England –
Thank God for the partnership and opportunities Christian Surfers has had to support the national governing body for surfing in England, through being present at contests and Phil's role with the board. Pray that this partnership continues to strengthen through the year and this opens opportunities for the Gospel to be shared.