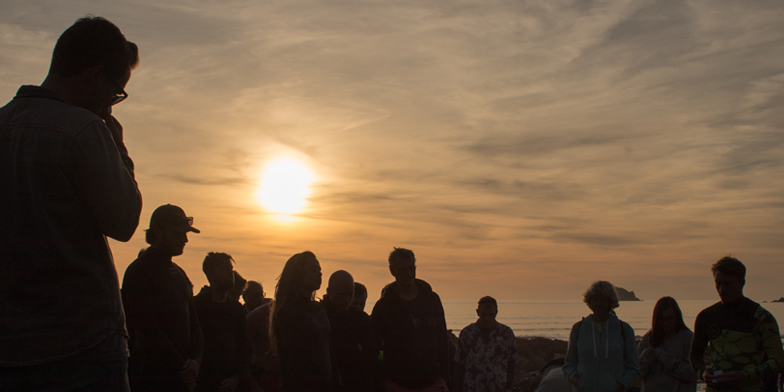 THOUGHT FOR THE MONTH
The Forecast is Good
There was a day in late September when the change was dramatic. The temperature dropped and the rain returned with a vengeance. It was obvious then that summer had finished. Just the previous weekend had seen one of the best swells for months and I have fond memories of sharing a coffee with friends in the warm sunshine of the car park after a very enjoyable late summer session. The good surf will continue through the autumn and into the winter, but it will be months before we can relax in the sunshine again. Reflecting on the sudden chill, I was reminded of a verse in Habakkuk, (chapter 1 verse 5)

"The Lord replied, look around at the nations, look and be amazed! For I am doing something in your own day, something that you won't believe even if someone told you about it."

As Jesus followers we have an advantage. Our perspective is different and brings hope and light into situations that would otherwise be all doom and gloom. I'm not just talking about the weather. An uncertain future is the common outlook at the moment, and prospects for jobs, travel, being able to see loved ones and the real prospect of ill health or worse is what is preoccupying many, if not most. But our God is bigger and we don't have to rely on news feeds or infection rates to set our mood. Look for what God is doing in our day, it may not always make the headlines, but like green shoots in spring, life is there under the surface waiting to emerge. The changing season is a reminder that God is still in control, and the forecast is good!

Dave Kemeny
Llanelli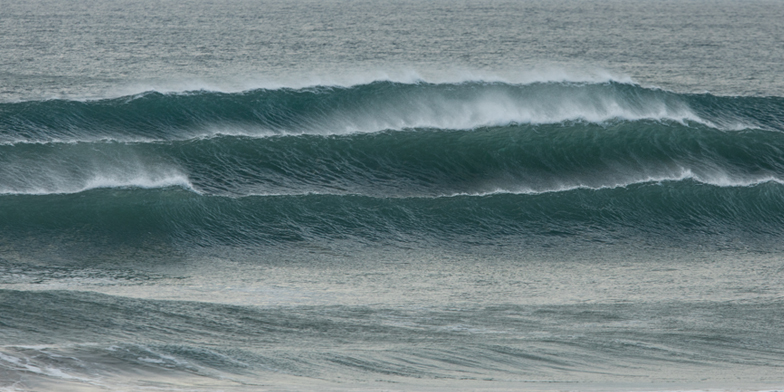 PRAYER POINTS
1st
We thank God for the growth of Christian Surfers UK over the past 30 years and all the opportunities we have had to serve and bless the UK surfing community. Thank God for all the opportunities we have had to share the Gospel and for those surfers who have made a commitment to Jesus or taken steps closer to Him.

2nd
Pray for the CSUK staff and trustees as we look ahead to the coming months, which ordinarily would have been filled with contests and events we would have been involved in or running ourselves. Pray for wisdom in making decisions and guidance as we decide what to get involved in and what we don't.
3rd
English Adaptive Surfing Games – giving thanks for this extraordinary team of competitors who will be involved at The Wave today. Also for David Renyard and Phil Williams as they are involved with the setting up and judging at the contest.
4th
CS Germany Gathering – please pray for Thomas and the team as they have the CS Germany remote national gathering today, and that, despite the remoteness of the event, all involved would feel part of it and excited for the continued role of the ministry in the German surf community

5th
Partnership – Welsh Surfing Federation – Thank God for the great partnership we have with the Welsh Surfing Federation and the work Johnny and the team have done over the years to build this. Particular prayers at this time with so much uncertainty around both the volunteers and staff during this pandemic, and with the Welsh Championships postponed.
6th
Partnership – Surfers against Sewage (SAS) – For over 20 years Christian Surfers UK members have been involved in this amazing charity that is passionate about looking after our planet, and we are also members of their 250 club. Pray for all the CSUK members involved in the work of the SAS that they can be a blessing to the people and communities they are working with, and that as a partnership it will remain strong.
7th
Church Partnerships – Pray for all the partnerships we have with churches around the UK as we continue to build strong links between the church and the surfing communities. Pray as we aim to partner with more churches and widen the network of partner churches and strengthen those partnerships we currently have.

8th
Groundswell Aid
Please pray for our partner organisation, Groundswell Aid, as it raises funds for key projects in third world nations, struggling with the COVID-19 pandemic. Give thanks for monies so far raised, and the help it's been to the communities it is assisting.
9th
Johnny Hillman – I continue to be been back carrying out shifts on the frontline as a paramedic in the Cardiff area working for the NHS, to help out during the COVID-19 crisis. Continue to pray for me in this new role with regards to how it develops, and continue to pray for the family.
10th – 11th
Pray for all the staff and surfers involved in the English Nationals being held at Watergate Bay and run by Surfing England. Pray for good waves and a smoothly run contest with all the restrictions that will have to be in place. Pray also for David Renyard as he works on the judging panel and that he has opportunities to be salt and light during the weekend.
12th
Pray for all those CSUK members facing challenges connected with health, finances, family situations or their own wellbeing.
13th
Partnership – Scottish Surfing Federation – Thank God for the great partnership we have with the Scottish Surfing Federation and the work CS Scotland has done over recent years to build this up.
14th
Partnership – The Wave Project. Pray for all the team at the the Wave Project as they continue to support vulnerable young people and use surfing to improve their mental health. Pray for all the opportunities our CSUK members have to support this work and invest in the lives of the people involved, and for the new course starting now at the Wave in Bristol.
15th
Jesus Surf Series Online Challenge – today is the day that entries close for our online Jesus Surf Series. We give thanks for all those who have been involved, including our sponsors, and we also pray that during the presentation on Saturday 17th @7 pm, we may engage and continue to build relationships with the surfing competition community.
16th
CSUK Women – Pray for the for women in Christian Surfers as they continue to connect with and encourage other female surfers in CS and the wider UK surfing community, especially in these difficult times.

17th
Williams family
Joe – continue to pray for Joe as he volunteers in the skateboarding community, including a local project in Bristol. Abi – Pray for her and Bryn, and also as she continues to develop as part of the operations management team at work. Annie – please continue to pray for Annie in numerous meetings, and key decisions that need to be made in trying to manage the restrictions surrounding the Covid 19 legislation in each one of the schools she represents. Giving thanks for her skill sets in this key area. Phil – unfortunately all the remaining visitations to mainland Europe have now been cancelled, so prayers for Phil as he tries to communicate, encourage and lead remotely, as well as in his continued networking and relationship building at the Wave facility in Bristol, and also a new project volunteering for the Wave Project.
18th
CS Scotland
Pray for CS Scotland that they are able to stay connected as a CS family at this time and also help them to find new ways of supporting their local surfing communities.
19th
Partnership – UK Pro Surf Tour. Thank God for this long standing partnership and the opportunities that have come from of it. Pray for Dave Reed and all the crew as they have had to cancel all of their contests that are due to happen in the coming months. Pray for God's peace on them and that we are able to support them through this difficult time.
20th
Renyard Family – Thank God for the time that we have had in the last couple of weeks to step away from work and daily routine. We had a fun week with my brother and his family and we have had a few night in the van locally. Pray for us as the children return to school and Pippa returns to work with all the added pressure of teaching with all the Covid restrictions. Pray for David as he returns to the work/home life balance that he can find a steady rhythm.

21st
In a month that would normally be full of surf contests and events that would give us many opportunities to connect with surfers and communities all over the UK, pray that we find ways to stayed connected and support the UK surfing community.

22nd
Roy Harley and CSI – Continue to pray for Roy and the CSI team as they coordinate the CS global family. Also for Casey, Jen and the family as they settle in to life on the USA's East Coast. Pray also for Aaron and Shannon as they find themselves unexpectedly now staying in Australia, whilst the World Surfing Tour is on hold.

23rd
Church Partnership – Tubestation – Thank God for the amazing partnership Christian Surfers have with the Tubestation. Pray for Dylan who replaced Joff, as he and his wife settle in, a great asset since they both arrived.

24th
Covid -19 – Please continue to pray for all those struggling through the Covid 19 pandemic, it has already had big implications for Christian surfers regarding events and finances. It also I believe continues to give us an amazing opportunity to serve our community working alongside some other incredible volunteers. Pray for wisdom with which events which we try to run and which we postpone, as we begin to look at 2021, but also that financially as an organisation this does not affect us in a way that we struggle to survive from.

25th
Ali Boddy
We have exchanged contracts so by the time you read this, we should have completed on our house sale! We thank God that we have finally reached this stage. We are continuing to look for the right area and house to move to. We are now living more and more in the van, in between short return trips to Bournemouth, so prayers for running the CSUK office from the road again would be appreciated
26th
14 November CSUK 'local' focus day – pray for the arranging of some sort of event on this date, whether it is during the day or in the evening, what it might look like and how we can encourage people to get involved without breaking Covid rules. Keen to unite our community again – thank you for your prayers.
27th
Partnership – Surfing England – Thank God for the partnership and opportunities Christian Surfers has had to support the national governing body for surfing in England, through being present at contests and Phil's role with the board.

28th
Pray for all our key contacts and area leaders that they are able to find ways to stay connected with CS members and contacts in their local surf communities. At a time when it is harder to meet, pray for those opportunities to connect and have encouraging conversations to continue.

29th
CS Europe – Please pray for the leadership of the CS Europe countries as they begin to look at 'life after lockdown', as they begin to schedule various forms of meet ups and try to ensure relationships that were remote are now strengthened again. Pray for leadership changes in Holland, Germany, Spain and a new board Chair in France.

30th
We thank God for the new members who have signed up in recent weeks as well as the new partners who are now supporting the work of Christian Surfers. We pray a blessing on all our members and that we see them continue to grow.

31st
Covid -19 (second wave) – prayers for our country, including our surf community, as we appear to be going into phase two of the pandemic. Particular prayers for areas that are in more severe lockdowns, including at the moment areas such as South Wales, and also for anybody who is currently ill themselves or have loved ones who have the illness.