Our vision:
To share the good news of Jesus with surfers, so that every surfer and every surfing community would have opportunity to know and follow Jesus.

Who we are:
An outreach ministry, active in the UK surfing community since 1990, affiliated to Christian Surfers International which operates in more than
30 countries.
What we do:
Serve the UK surfing community through our network of local members and volunteers, partnering with other organisations as we seek to be a bridge between the church and the beach.
Becoming a Church Partner –
working together,
achieving more
A partnership tailored to your specific requirements:

• Help your church to catch the vision from a visiting CSUK speaker
• Receive regular prayer updates
• Join in with our outreach events
• Work together to engage with your surfing community
• Read stories of God at work in the lives of surfers and surfing communities around the UK by receiving free copies of our biannual magazine, Second Day
• Benefit from free copies of quality resources including the Surfers Bible (NLT), containing faith stories of well known surfers
• Communicate regularly with your CSUK link person to develop and strengthen the partnership
CHURCH PARTNER PACKAGES
Your church might also like to consider supporting CSUK through one of these packages.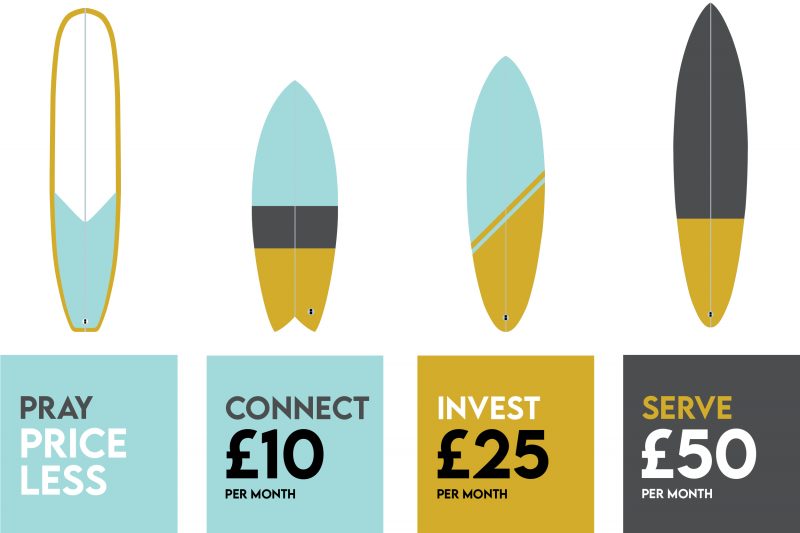 PRAY
Knowing that we have a committed church family covering the work of Christian Surfers in prayer is vital and so encouraging. Sign up to our prayer calendar and commit to praying for surfers in the UK.

CONNECT
A commitment of £10 per mouth would enable CSUK to give away 15 New Testament Surfers Bibles, putting The Word into the hands of surfer across the UK.
INVEST
A Church that invests £25 per month would provide training for our volunteer leaders, giving the resources and confidence to lead local CSUK missions to their surfing communities.
SERVE
A commitment of £50 would help CSUK to support, connect and serve at high profile surfing events, giving us the opportunity to build relationships and share the good news among surfers.
NEXT STEPS
Inspired to join with us on our mission?
Find out more and further explore what a partnership could look like for your church
Contant Phil Williams, CSUK National Director – phil@christiansurfers.co.uk