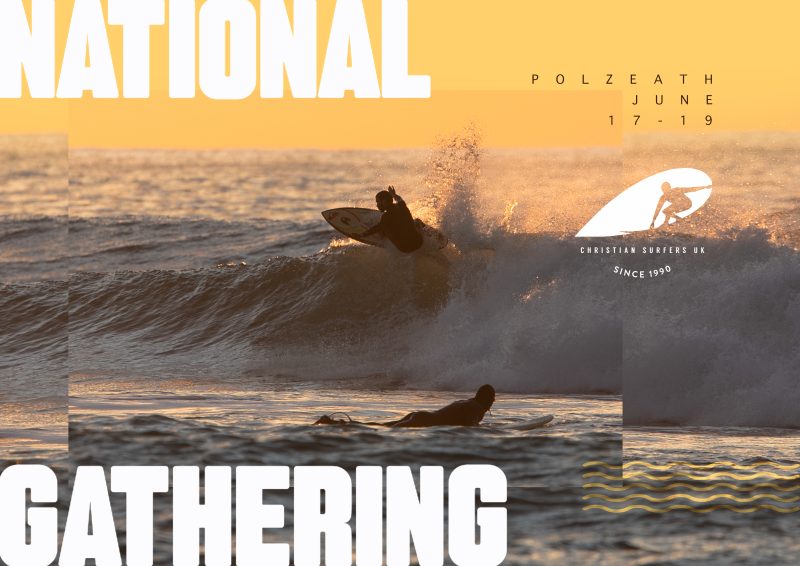 On behalf of the staff and trustee team of Christian Surfers UK, we are very excited to be opening registration for this year's National Gathering, to be held in Polzeath from 17-19 June and in partnership once again with our great friends at Tubestation.
After two years of not being able to hold this event due to Covid restrictions, we are so excited to be able to meet you face-to-face for a weekend of fun, fellowship, sharing, hopefully catching a few waves, and generally spending quality time with the family of Christian Surfers UK.
Not only are we able to gather again, but we will also be welcoming the International Director of Christian Surfers, Roy Harley, and his wife Sharon, as our guest speakers, all the way from South Africa, as they pass through for the weekend on their way to Greece!
The organising team are excited to be thinking of ways to make it a special event, with the theme for this year being 'In God's hands.' That phrase means many things to many different people, but we firmly believe that your life, your work, your family, your church, and, of course, the mission of Christian Surfers UK, are firmly in God's hands.
We will have time also to celebrate two significant events: giving thanks for David Renyard and the incredible service he has given us as part of the staff team since 2008, and who will be stepping down in early summer; and also celebrating Phil's 20th year of living by faith running the Christian Surfers movement in the UK and further afield.
So please don't hang around – getting your Early Bird bookings in by 5 June will save you some money!
In particular, if you are planning to bring children or teenagers, even if you can't fully complete your booking, would you please let us know by emailing office@christiansurfers.co.uk so that we can start to make provision in the programme for them.
We're very much looking forward to seeing you but if the cost is prohibiting you from being with us, please have a quiet word with phil@christiansurfers.co.uk to see if we can make this happen, as we believe that God is going to be working, moving, and shaping CSUK, not just for this year but into the future.
God bless
Phil & the organising team
ACCOMMODATION
We will be based at the Valley Caravan Park and camping all together so bring a tent or van. The cost of 2 nights' camping (17 & 18 June) is included in the standard gathering fee.
SPEAKERS
We are really excited to be joined at this year's National Gathering by the International Director of Christian Surfers, Roy Harley, and his wife Sharon. Roy will be our main speaker.

CATERING ASSISTANCE
We are looking for two or three people who would be willing to serve alongside the Tubestation team to assist with catering. If you feel you would be interested in helping in this way in return for a free place, please contact Ali at office@christiansurfers.co.uk to find out what this would involve.
DISCOUNTED CAMPING TICKETS FOR MEMBERS

Includes 2 nights' camping (17 & 18 June), meals, and a contribution to the running costs of the event.

EARLY BIRD DISCOUNTED PRICE FOR CURRENT MEMBERS
(full payment received by 5 June 2022)
Adults – £75 (£85 after 5 June)
Children 10-16 years – £40 (£45 after 5 June)
Children 3-9 years – £20 (same price after 5 June)
Under 3s free
Family of 2 adults + 2 children – £190 (£215 after 5 June) for families of other sizes, please contact us for a price

DISCOUNTED NON-RESIDENTIAL PRICE FOR CURRENT MEMBERS
If you prefer to arrange your own accommodation, the non-residential gathering price includes meals, and a contribution to the running costs of the event, but no camping nights

EARLY BIRD DISCOUNTED PRICE FOR CURRENT MEMBERS
(full payment received by 5 June 2022)
Adults – £60 (£70 after 5 June)
Children 10-16 years – £25 (£30 after 5 June)
Children 3-9 years – £10 (same price after 5 June)
Under 3s free
Family of 2 adults + 2 children – £140 (£165 after 5 June) for families of other sizes, please contact us for a price
FULL PRICE CAMPING TICKETS
Includes 2 nights' camping (17 & 18 June), meals, and a contribution to the running costs of the event. (It also includes an optional, one year's membership which can be redeemed during the gathering)

EARLY BIRD PRICE
(full payment received by 5 June 2022)
Adults – £90 (£100 after 5 June)
Children 10-16 years – £40 (£45 after 5 June)
Children 3-9 years – £20 (same price after 5 June)
Under 3s free
Family of 2 adults + 2 children – £220 (£245 after 5 June) for families of other sizes, please contact us for a price

FULL PRICE NON-RESIDENTIAL TICKET
If you prefer to arrange your own accommodation, the non-residential gathering price includes meals, and a contribution to the running costs of the event, but no camping nights. (It also includes an optional, one year's membership which can be redeemed during the gathering)

EARLY BIRD PRICE
(full payment received by 5 June 2022)
Adults – £75 (£85 after 5 June)
Children 10-16 years – £25 (£30 after 5 June)
Children 3-9 years – £10 (same price after 5 June)
Under 3s free
Family of 2 adults + 2 children – £170 (£195 after 5 June) for families of other sizes, please contact us for a price