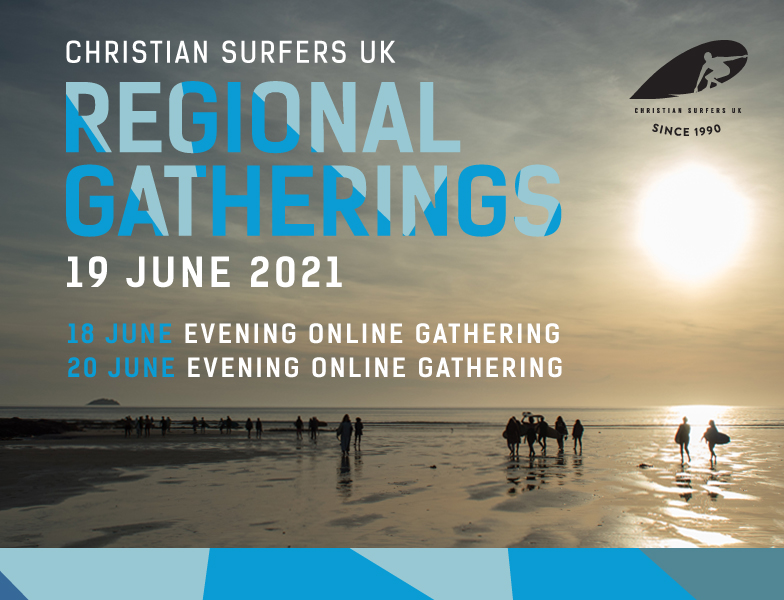 We, of course, will be missing the opportunity to join together as one group in Polzeath at the Tubestation as normal this year, but this change of plan gives us what we believe is a God-inspired opportunity to connect in our local groups. This could potentially involve a greater number of people, which is really exciting, so we hope you take this opportunity to engage again with the local CSUK family.
We're excited about this opportunity for local groups to gather together with the chance to meet old friends and hopefully meet members who have not connected with CSUK before.

Regional Gatherings will be happening during the day of Saturday 19 June in each of the locations listed below. Each meet up will have its own flavour and timings – but most will include hanging out at the beach, surfing/SUP/swim and food. Follow the links below to register your interest in attending one of these gatherings. There is no charge but registering is important so that you can receive info about what's planned in your area.
On Friday 18 – In addition to Saturdays in person gatherings, join us on Zoom for a social hour of fun and meeting members of the CS family from around the UK at 19:00.
On Sunday 20 – To conclude what would have been the CSUK National Gathering weekend, we will be organising an hour on Zoom at 19:30 worshipping, reflecting and giving thanks, led by Alice Ovenden, Ben Lillie and others.

For more info and if you need the Zoom sign in codes just get in touch with Ali at office@christiansurfers.co.uk
To be a part of the CSUK Regional Gatherings on Saturday 19 June, just sign up to the relevant gathering below.

Cornwall – Penwith
Cornwall – Newquay
Cornwall – Widemouth
North Devon
Plymouth/Exeter (Bantham)
Bristol/Midlands (The Wave)
South Wales The Gower)
London/South East (Sussex/Kent area)
Witterings
Bournemouth
East Anglia
Tynemouth
Dunbar, Scotland
Yorkshire
Northern Ireland
We are really looking forward to connecting again in person, to bring the community back together, spend some quality time as a group, and perhaps even make new connections, and re-kindle old ones. Looking forward to seeing you there.