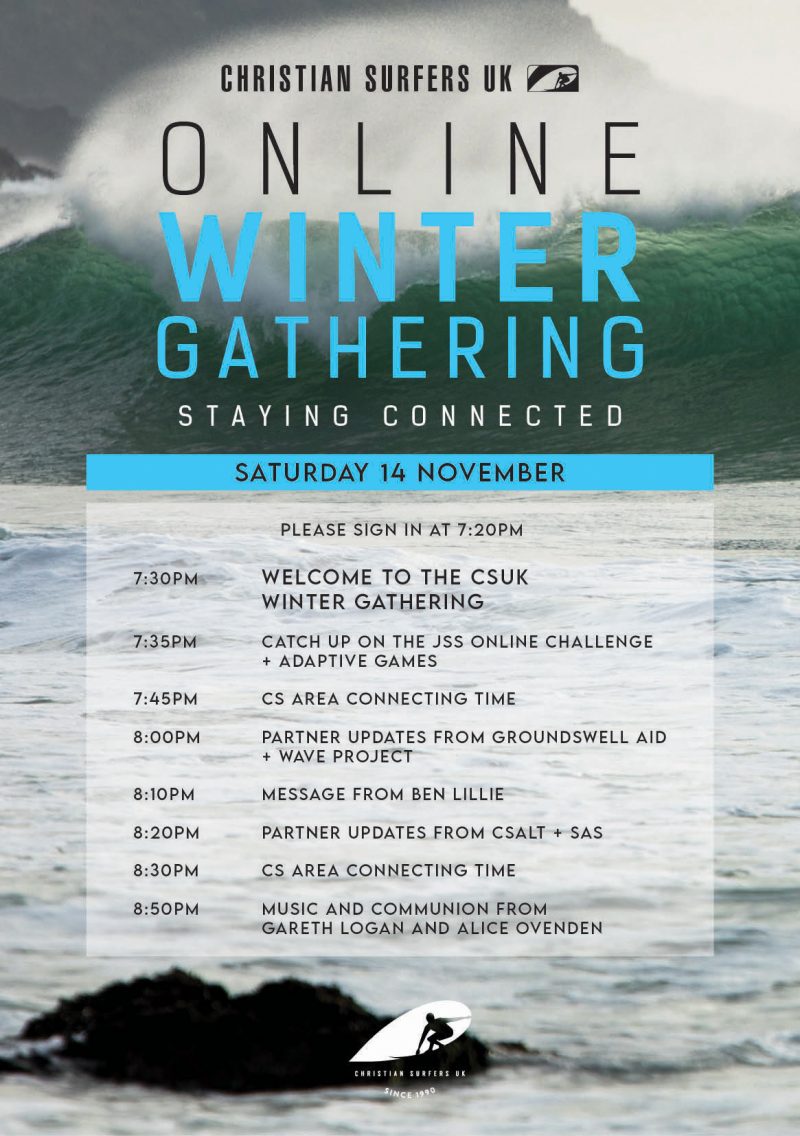 DONT MISS OUT – SAVE THE DATE
With restrictions on gathering in numbers still in place, we want to give the wider CSUK family the opportunity to connect and catch up.
We are planning an online winter gathering on Zoom on 14 November, based on the theme of 'staying connected.' It will be a time of hearing encouraging stories, Ben Lillie will be sharing some thoughts on the theme, there will be a few fun elements, as well as updates on a few partnership activities such as Groundswell Aid, CSalt and Wave Project. There will also be time for people from the various regions to catch up, get to know each other and pray together.
We will also be sharing some content through Saturday afternoon, so keep an eye on the CSUK Facebook page for that. We will be haering from Brian Allen and Joff Phipps as they share their thoughts on staying connected. We will also have a few are updates and will be hearing from Laura who works at the Wave Project.
To join us for the CSUK Winter Gathering all you need to do is join the Zoom call at 7:30pm for around 90 minutes. Sign up below to receive all the updates and Zoom codes.
As part of the evening it would be great to hear some encouraging stories of people connecting with others in their surf communities. If you have anything that you would like to share please let David Renyard know ASAP davidjrenyard@hotmail.co.uk

Sign up to the gathering here
Morning activities
Whilst we cannot formally organise anything to gather the local CS teams as we were planning to do,
due to COVID-19 restrictions, it may well be that you would like to individually invite one or two other CS people to surf with you or catch up together on Saturday morning, providing of course it doesn't go
against the COVID-19 restrictions in your area.
That way you can also encourage them to join in on the Zoom call in the evening and have a bit of a CSUK focus day. Ideas could include surfing together, stand-up paddle boarding, skateboarding or
going for a walk.
We are looking forward to seeing as many of you as possible on the evening, having some fun, encouraging others and being reminded that God is indeed in control and loves surfers as
much as anybody else.
Any further questions or clarification contact David Renyard – davidjrenyard@hotmail.co.uk or
Phil Williams – phil@christiansurfers.co.uk
God Bless
Ali, David, Johnny & Phil