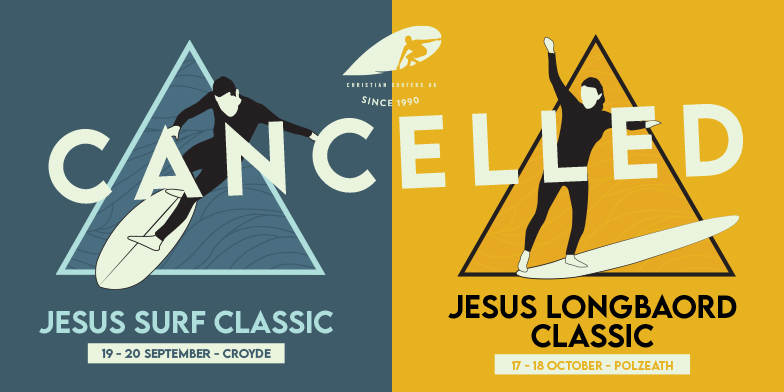 After detailed consultation with sponsors, partners, volunteers and the authorities, Christian Surfers UK, organiser of the very popular and long-running Jesus Surf Series, feels it has no option but to cancel the events for 2020. It was not an easy decision to cancel the 28th Jesus Surf Classic scheduled for 19-20 September at Croyde Bay, North Devon, hosted by Parkdean, and the 13th Jesus Longboard Classic, scheduled for 17-18 October at Polzeath and hosted by Tubestation, but it was the only choice.
Both events revolve around community, hospitality and fun as well as, obviously, the surf contests and, unfortunately, due to the restrictions placed upon the organisers because of the COVID-19 pandemic, these key elements would not be possible. Therefore, rather than plan for an event which might be cancelled or, at best, stripped back to a format that would not really be enjoyable for anyone, as well as taking into consideration the safety of contestants, our volunteers and the local community, the decision was taken not to run in 2020.
Instead, Christian Surfers UK is planning to run an online competition. Surfers in both events will be able to send in video clips of themselves surfing, filmed in the UK throughout the holding period of September 2020. There will be prizes and it should be a lot of fun, so watch out for more details and find out how to enter in the next couple of weeks via the normal social media channels, including the Jesus Surf Series Facebook page.
Christian Surfers UK wants to thank the community of surfers who would normally compete and sponsors and other partners who invest so much in order to help put on these fun events.
The 2021 Jesus Surf Classic, which will be in its 29th year, has been pencilled in for 11-12 September and the 2021 Jesus Longboard Classic will be held in mid-October, tide dependent.
It is a huge disappointment for us, as Christian Surfers is celebrating its 30th anniversary in 2020 and had some fun and exciting things planned for this year's events. We hope you realise how tough this decision was, but we did not really have much choice. The Christian Surfers team looks forward to seeing you at beaches as we surf together in 2020 and also to getting back to support the contest scene in 2021, all being well, not just at our own events but also at those of other key surfing organisations in the UK.
Any further questions please do not hesitate to contact Phil Williams phil@christiansurfers.co.uk or check out www.christiansurfers.co.uk