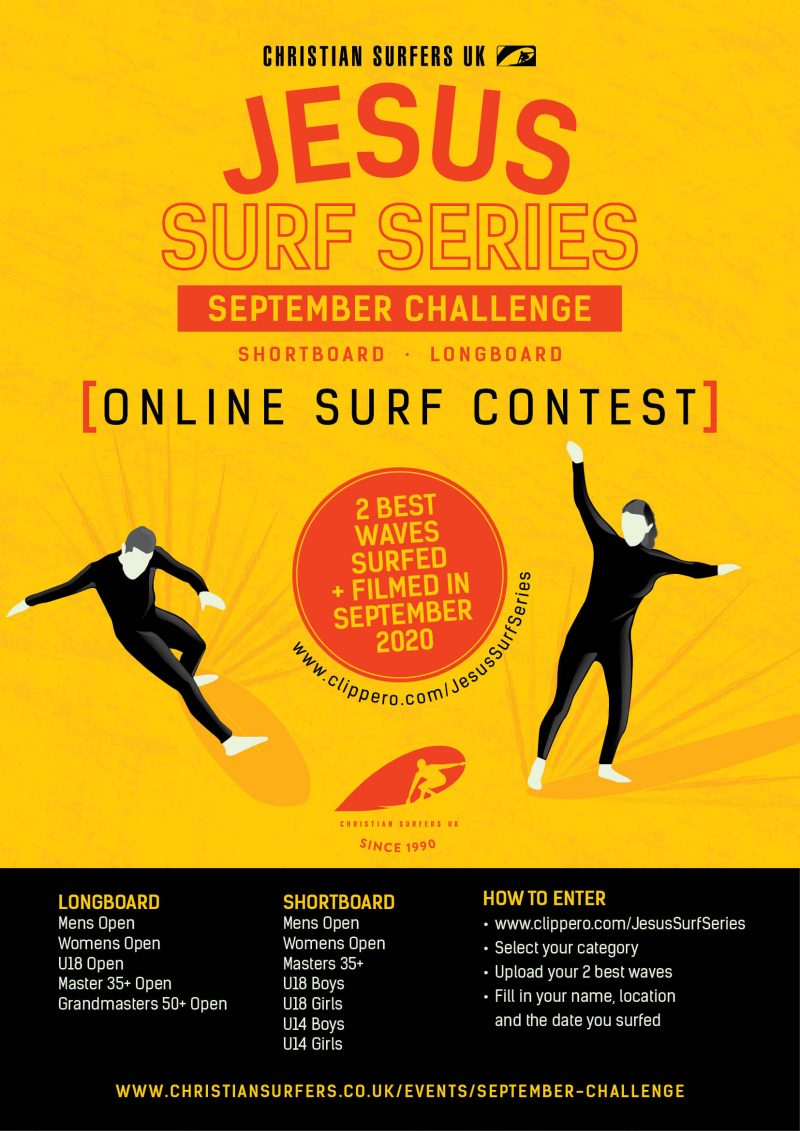 When it was confirmed that Christian Surfers UK would not be running the very popular Jesus Surf Classic and Jesus Longboard Classic, we decided we needed to find a way of continuing to build interest and find a way of connecting with all our previous competitors. Hence this online contest format, detailed below. There will be some form of prizes which we'll be announcing soon and it is FREE to enter!
THE CONTEST
The Jesus Surf Series September Challenge is a brand new surf contest that will take place online. The idea is to send in footage of your two best waves surfed in the UK during the month of September 2020, these will be judged and the winners announced during an online event in early October.

THE RULES
– Entrants must submit footage of two waves only.
– They must have have been surfed in the UK between 1 September 2020 and 30 September 2020.
– Title each ride with surfer's name, location, and the date wave was surfed.
– You may swap out a wave for a new wave by deleting an entry to repopulate with a new entry prior to deadline.
– Entrants can only enter one category in shortboard and one category in longboard.
– Please do not enter any category if you are over the age stated on 01 January 2020, failure to comply will result in immediate disqualification.
– Categories are limited to 25 entries.
– The waves will be judged using the current judging criteria set by the ISA with the best two wave total being the winner.
– No waves filmed at 'The Wave Bristol' are to be entered.
– By entering you give Christian Surfers UK rights free use of video footage you submitted of your entry to be used at Christian Surfers UK's discretion.
– Deadline for entries is 11pm 30 September 2020

THE CATEGORIES
SHORTBOARD
Mens Open / Womens Open / U18 Boys / U18 Girls / U14 Boys / U14 Girls / Masters 35+

LONGBOARD
Mens Open / Womens Open / U18 Open / Masters 35+ Open / Grandmasters 50+ Open

HOW TO ENTER
To enter the Christian Surfers UK Jesus Surf Series September Challenge go to www.clippero.com/JesusSurfSeries select the category you want to enter and upload your waves.
Don't forget to include your name, location and date it was surfed

THE ONLINE RESULTS EVENT
The results will be announced on two separate online events hosted on Zoom, one for the shortboard categories and one for the longboard categories.
The shortboard results will be announced and prizes given out on 11 October and the longboard results will be announced and prizes given out on 18 October.

CHRISTIAN SURFERS UK SOCIAL
You'll be able to keep an eye on the competition as footage gets submitted on the Jesus Surf Series Clippero page and the Jesus Surf Series CSUK facebook page
Stay safe, have fun and we'll be praying for some epic September swells!