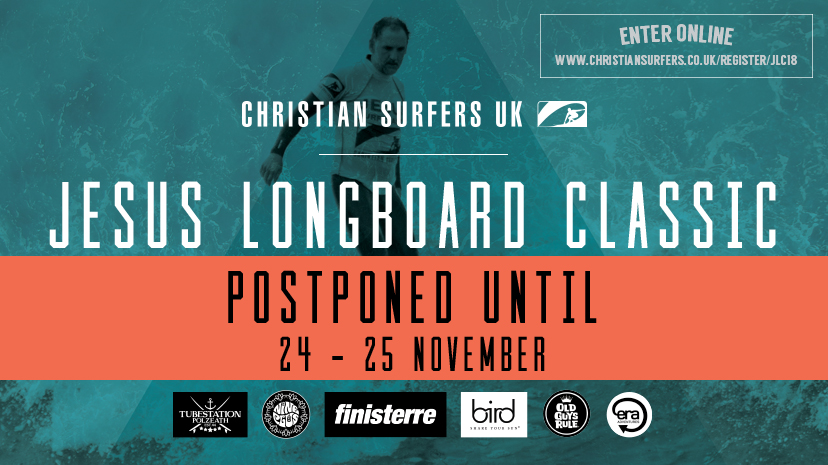 The 2018 Jesus Longboard Classic (Polzeath) scheduled for October 13th and 14th has been postponed until 24 – 25 November due to stormy conditions.
As most of you involved in this event this weekend realise, the conditions were always looking pretty challenging for event organisers, Christian Surfers UK, to conclude a two day event, with some big autumn storms forecast.
The Jesus Longboard Classic is about community and enjoyment and trying to run anything to a conclusion this weekend would not have been the correct decision, especially with water safety being paramount.
We are passionate to ensure that the event does run so we have rescheduled for 24th to 25th of November at the Tubestation which is a great facility to host the event; the log fire will be roaring and there will be plenty of hot drinks for the competitors, helpers and spectators.
We are aware that some of you may not be able to make the rescheduled date and if that is the case please let us know in the next two weeks in order for us to give you a refund by emailing ali@christiansurfers.co.uk  If we don't hear from you, you can assume that your entry is still valid for the new date. Likewise in the next two weeks the registration portal will be open again for new registrations.
It  is with regret that we must postpone the event but we know it's the right decision and I can't wait to see you all in November.
A huge thanks to you for your support; with over 75 competitors it was always going to be a busy weekend and we want to celebrate in style in conditions that are fitting to run a good, safe and exciting contest.
If you have any questions please email Ali ali@christiansurfers.co.uk
Finally, a big thank you to all our supporters and sponsors; Nineplus, Finisterre, Bird Sunglasses, Old Guys Rule, Era Water Safety, Beagle Media, Christian Surfers UK and Tubestation
Regards and thanks
Phil Williams
Contest Director
Jesus Surf Series