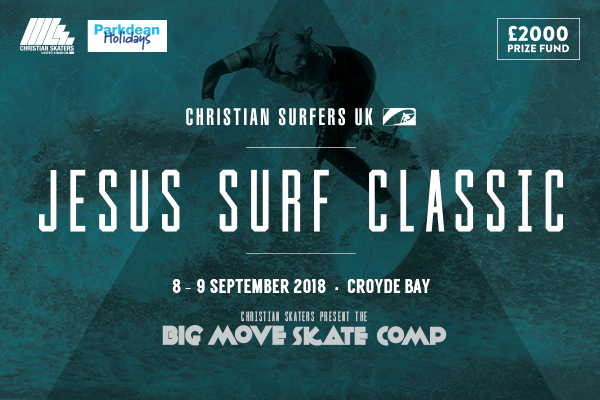 Christian Surfers UK are looking forward to hosting this year's 26th Anniversary Jesus Surf Classic surf contest at its North Devon home of Croyde Bay over the weekend of 8 – 9 September 2108
Last year's hugely successful 25th event (despite some challenging weather resulting in it being run over two weekends) was well oversubscribed with over 150 entries, so contestants are being advised to get their online entries in early. Online entry will be open very shortly so keep an eye out for the announcement.
This year there will be over £2000 of prize money to be shared between the eight categories, with both the Men's and Women's Open surfing champions receiving £300.
Categories
Under 12s
Under 14s
Under 16s
Under 18 Girls
Under 18 Boys
Over 35s
Women's Open
Men's Open
As before, Christian Surfers volunteers from around the UK will be involved in organising the weekend, making it ideal for competitors, supporters and, of course, their families. There will be a skate park (weather permitting), marquee and BBQ, and surf and skate movies will be shown on the large screen throughout the weekend.
There will be a Big Move skate competition (weather permitting) at the purpose-built skate park. We are looking forward to seeing lots of skaters coming down to this event once again.
If you have any questions please e-mail Ali Boddy ali@christiansurfers.co.uk
Here's the action from last year's contest to get you inspired!