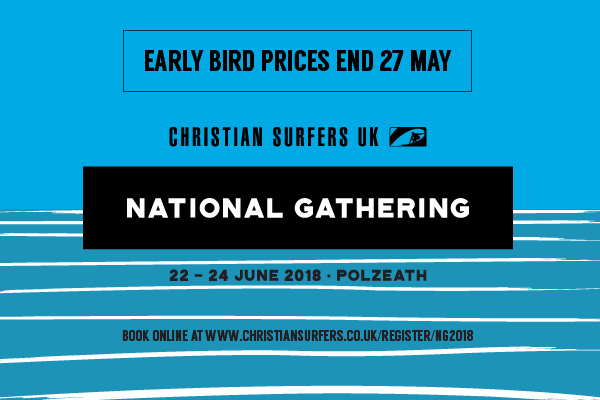 We are really looking forward to this year's CSUK National Gathering and with only a few weeks to go plans are really coming together. There is also only one week left to take advantage of the early bird prices, so we would really encourage you to book your places very soon. 
It will be a great time for fun, food, fellowship, hearing from God's word and worshipping together and plenty of time in the water. There will be inspirational stories about how surfers are reaching surfers with the Gospel, and news of the exciting plans for the year ahead, as well as looking back at some of the events of the previous year. We will also get to hear about what is happening in Christian Surfers across Europe and the rest of the world with the CS International Gathering being held in France this year. We are very excited this year to welcome as our key note speaker, David Bailey, who will be speaking on the CS verse and theme of the year based on Colossians 3:17, 'Whatever you do,whether in word or deed, do it all in the name of the Lord Jesus, giving thanks to God the Father through him.'
As Christian Surfers UK grows and develops, we are aware that our membership is changing too! With lots of families and young kids in tow we are aiming to provide children's activities on the Saturday morning to allow parents to enjoy the meetings, so everyone can get the most out of the weekend. We would love to see you and ALL of your family.
Here a taste of what to expect from last year's Gathering
You can find out more details and how to book on the events page