On the weekend of 4-5 November, the women of CSUK converged upon the small town of Georgham for their inaugral weekend surf trip. Organised by Lydia Knox and Jess Foy, over 30 women met for the two day gathering at the fairy-light-bedecked St Georges House. The aim of the weekend was to spend time together to develop and deepen relationships, to hear God's word and direction for their lives and, of course, to share some waves.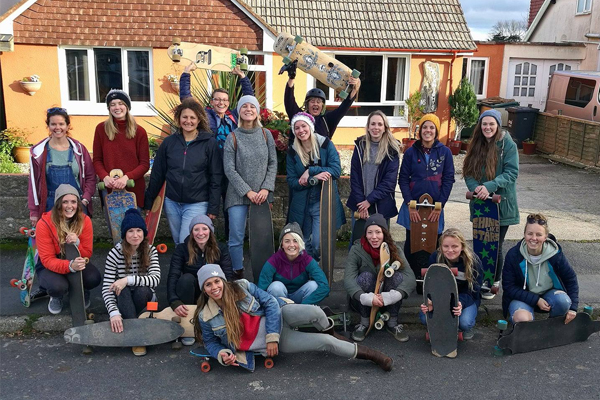 Many turned up on Friday evening with donations of cake, wine, cake, some beers, cake and a bit more wine. Mary 'WeLoveYou' Matthews was chef extraordinaire in the kitchen preparing the first of many meals and the evening drew out chilled and relaxed as conversations flowed. After breakfast the following morning, a short devotional time was kicked off by Pippa Renyard as she shared her thoughts around 1 Corinthians 7 v 17-24. The phrase "if you are a surfer, be a surfer; if you are a skater, be a skater" will resonate for some time!
Then it was time to pack up the cars and vans with boards and wetsuits and head for Putsborough. The forecast wasn't good, the wind was blowing us sideways and the conditions looked rubbish. Nevertheless, moments later the waves were dominated by women surfers; from those starting out with superb coaching from St Georges own Becky and Emma, to those who were able to push on through and get out back! Later, after some warming soup, a group set off for a mega coastal walk with the rest hitting up a nearby road with a sweet incline on their longboards, eventually moving back toward St Georges where they pretty much spent the rest of the afternoon. There was much wooping and hollering, thankfully to the delight of neighbours and passers-by who were intrigued by so many girls on skateboards.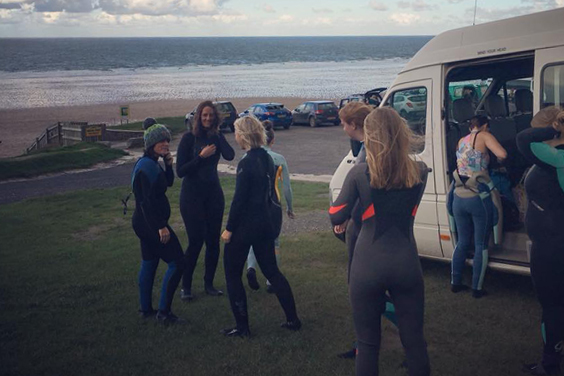 As fireworks were lighting up the night sky, the women gathered to hear guest speaker and fellow surf sister, Sarah Yardley, speak on "Identity". This theme is carried on from the National Gathering and Sarah beautifully portrayed God's heart specifically for the women. What ensued, during the worship and prayers that followed, was an incredible outpouring of definitive love and direction from the Father; a recognition of the value that He gives women which is far beyond that which the world gives and the undeniable knowledge that he is for us and has called us.
The weekend comprised more fizz and crisps, cake and jelly babies, toasted marshmallows around the BBQ, sparklers under a hunter's moon, impromptu dance party, more noise, singing, stomping of feet and more deep belly laughter than should really be allowed – so roll on CSUK Girls Surf Trip #2!
Sabina Edwards.