Jesus Surf Classic Part 2 30th Sept 2017 – Thursday update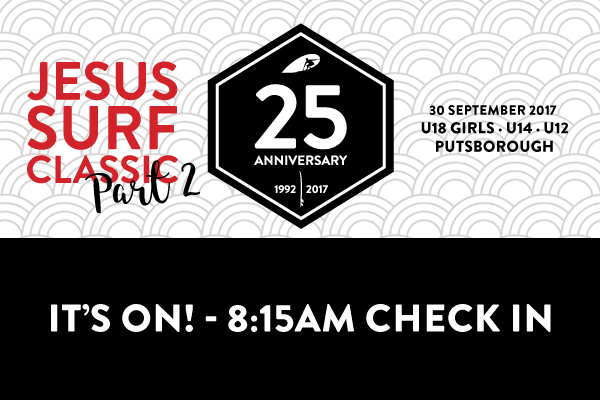 We wanted to update you with our latest thoughts on this week's running of the remaining three categories of the 25th Jesus Surf Classic, namely the Under 18 girls, under 12s and under 14s.
All competitors involved please check e-mail as a fuller update has been sent
We have taken a decision to call the event ON, as a one-day event on Saturday 30th but moving it to Putsborough for more shelter (2 miles north of Croyde, EX33 1LB).
We have RNLI water safety cover with a jet ski on standby and two lifeguards. Having spoken to local contacts we believe that the conditions could be pretty good for the categories which we have still to run.
The running order and heat draw will be posted on the Jesus Surf Series CSUK Facebook page by 6pm on Friday. Registration will be at 8:15am in the CSUK gazebo in the Putsborough car park with first heats in the water at approx 8:45am
Our priority is to complete the event to celebrate 25 years in a safe and enjoyable atmosphere and that is what we believe we can do.
We are very much looking forward to seeing you there in what we believe will be a great ending to the 25th anniversary event.
Just a reminder in case you hadn't seen before, follow the clip to the edit of the first part of this long-running and hugely popular event.
If there are any further questions don't hesitate contact Ali ali@christiansurfers.co.uk or ring me on 07774138143
God bless
Phil Williams.
Jesus Surf Series Contest Director