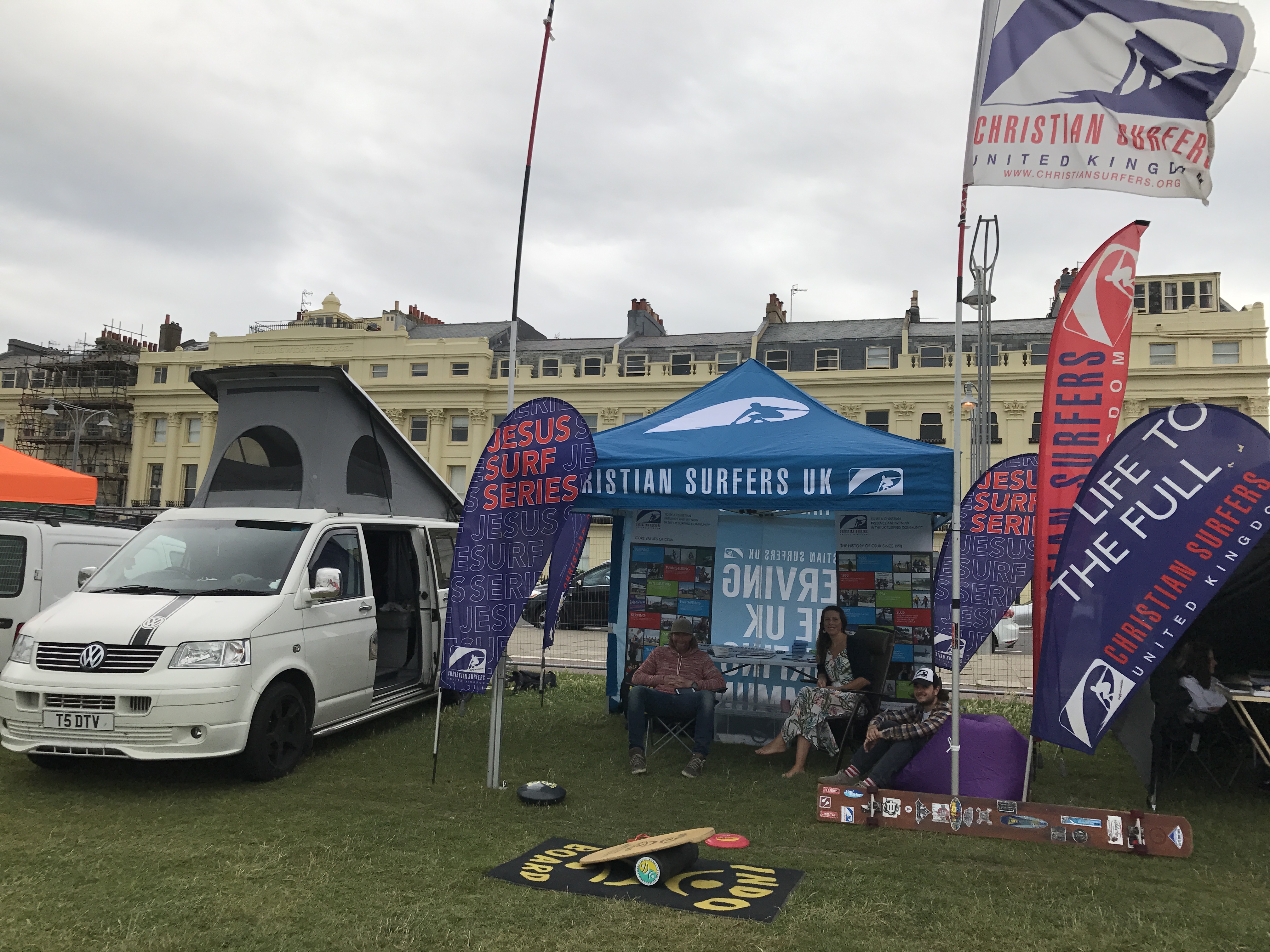 Christian Surfers UK have just had an amazing weekend at Paddle Round the Pier. Over the weekend of 1 – 2 July CSUK joined hunreds of other organisations and companies in the surf industry in Brighton. It's on every year raising money for charities like Surfers Against Sewage and RNLI. CSUK has been a part of this and supporting it for many years; people like Phil and Daren have watched it turn from a small group of 50 people for an hour to this big two day event with hundreds of people passing through and loads of stallholders ready to sell their goods. I have spent short amounts of time at this event in the past but this year was extra special for me to be part of it and to be proactive in talking to people passing by, using the indo board as a perfect conversation starter and encouraging other stallholders by stopping by and sharing the beer.
The sun made itself known even though it was meant to rain and I felt so loved and supported by other Christian Surfers from groups across the UK who came to help, chat and encourage the vision in Brighton; the team work and community of CS inspires and reminds me I am part of such a big loving family! Some friends of mine from church stopped to chat and within five minutes were praying for a lady who was passing by and she left with a healed arm with more movement than she previously had, praise God; this story inspired our own Daren to be brave and pray with one of the other stallholders who wasn't feeling well which is so exciting to see God move and seeds of God's goodness shared.
We also got together with Beyond Church for a service on the promenade on Sunday morning. We were joined by a small band of people from Beyond Church, a local Christian organisation that uses art installations to share the gospel and who have partnered with us over the last four years to provide a blessing of the surf on Brighton promenade. This year we made a human sundial and left it on the seafront for the passing public to use and read as well appreciate God's creation and create conversation.
Kirsty Rayner